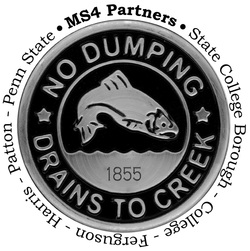 The MS4 Permit Area

The Pennsylvania Department of Environmental Protection (PaDEP) and the US Environmental Protection Agency (US EPA) developed the MS4 permit area boundary using 2000 census data and the boundary map can be seen on the lower left. The permit area does not include all of the lands within the State College Borough and College, Ferguson, Harris, and Patton Townships, which are shown overlain on the map to the left. The small area located outside the MS4 partner area is the State Correctional Facility at Rockview located in Benner Township. The Correctional Facility has its own permit. The Pennsylvania Department of Transportation has its own permit that covers State roads. PaDEP has indicated that the next permit cycle (approximately 2018) will likely update the permit boundaries using the 2010 census data shown on the map below right.
The MS4 permit areas do not coincide with any watershed.

---
The 2010 urban area and urban cluster boundaries can be in the above map to the right. While the areas are expanding for the existing MS4 Partners, it may also include additional municipalities.

The two maps below show the differences between the 2000 and 2010 urban area maps. The map to the left indicates by the blue color what 2000 areas were removed from the 2010 areas. The map to the right indicates by orange what areas were added between 2000 and 2010.